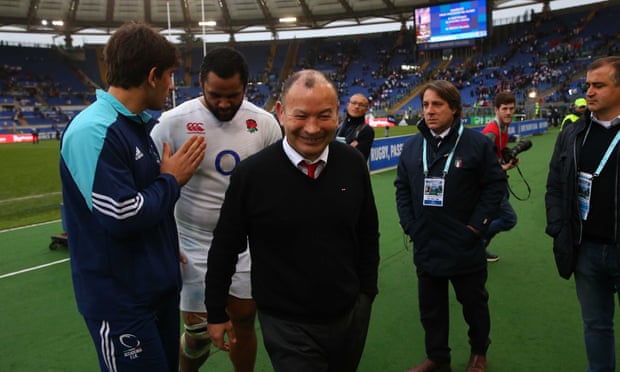 E
ngland's display showed us what Eddie Jones means when he talks about playing with pace and intensity. There was a real step up in terms of intent and in the relentless pressure they tried to put Italy under. Dylan Hartley and his team were rushing to get in position for kick-offs and took every opportunity to inject pace into the game and to harry Italy at the breakdown.
Let's not rank the performance by looking at the scoreboard, though. There were problems in the first half and things were ragged at times. They got a bit woolly at some of the lineouts and failed to get numbers to some of the breakdowns. What impressed was that they kept at it and did not revert to the old, slow and predictable ways.
When you raise the pace of the game to a level you are not comfortable with, you inevitably lose some accuracy. Eddie is trying to get the players used to a more fluid style so there is not such a clear picture of where each player should be. The game becomes more unstructured, which means you've got to be more reactive to who's at the breakdown and you could see at times this did not come automatically for some of the players.
The transition to operating at this kind of intensity can be a bumpy ride as errors are inevitable and at some stage against some of the better sides those errors might swing the game away from you. The temptation to retreat is ever present, something that I felt occurred against Scotland but not in Rome
Just when the game was in the balance and the team could have dropped the intensity, Jones's plans for the bench came into play. Joe Launchbury, Joe Marler and Danny Care came on within 10 minutes of half-time and they upped the intensity again to build on what the starters had done. Maro Itoje and Jack Clifford among the others injected further drive when they came on. That ability to lift the game again seemed to break Italy's resolve and Jones will have been delighted that his plan worked, although if Jonathan Joseph had not been alert to score the interception try after 53 minutes nerves would have been severely tested.
We should not underplay the fact that this was England's second match in a row without conceding a try. We've been a bit obsessed with whether they should play a classic No7 breakdown specialist but the defence coach Paul Gustard's influence on their work over the ball is becoming clearer. Like Saracens, from where Gustard was poached, England now look to players from all positions to push through rucks and kick the ball.
This creates a relentless feeling of being under pressure when in possession – something Italy looked uncomfortable with.
No one did this to greater effect than George Kruis – a Saracen, let's not forget – who was a constant irritant with his physicality and his nous when the ball was on the floor, but the way Joseph hit the ruck and went through it in the buildup to George Ford's try showed how this attitude is beginning to go through the team. At other times it did not work and there were not enough numbers, but they are learning this new approach and you can start to see this relentless pressure they are looking for.
In the backs' initial strike play there was still a tendency to try runaround plays to fix the opponents' midfield and this may be because they are short of physical presence in midfield thanks to playing two fly-halfs. This effectively left very little space for England's best runners in Jack Nowell and Anthony Watson to create further mayhem. There is definitely mileage in having footballers out there and having another distributor as we saw in the Owen Farrell pass for Ford's try, but some of the elements of a proper No12 are missing. England's twin fly-half set-up has yet to be tested against the best.
The Italians showed the benefit of a balanced centre combination and will have been very disappointed when Gonzalo Garcia was forced off as he and Michele Campagnaro were causing England problems. The Italian fly-half, Carlo Canna, looks very good with ball in hand but not so much when he is trying to manage field position, something he found when his front eight found no change from England's pack. The shortage of backs on the England bench meant there was never going to be a change to the midfield unless it was forced, but I thought when Farrell went off briefly for a concussion check that this policy was about to be found out.
It was fortunate Farrell was OK, as a midfield change after 20 minutes would have been a problem with Alex Goode the only option. Jones clearly has no fear of bringing players on early, though. As in the Scotland game, he changed his scrum-half just after half-time and it worked well. Care's chip for Joseph was high-class and it was his kind of game by the time he came on. The game was broken up and he thrived.
Care could thank the intensity and pace of the first half for his chance to shine and England have to maintain the fluid style and keep the pace high while accepting it will occasionally burn them. Better opposition will test them more than Italy did and the ride will be bumpy, but the more they do it the better they will become.
reference source:theguardian