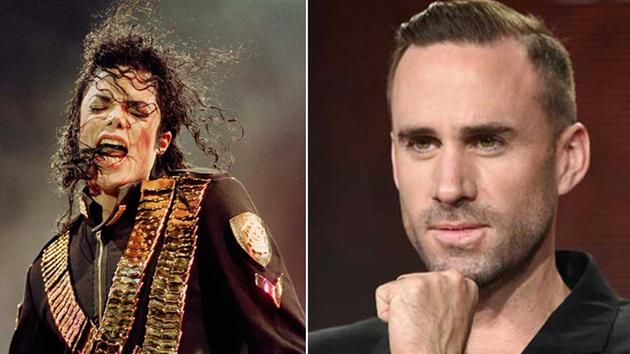 A
ctor Joseph Fiennes has been cast as Michael Jackson for a TV drama set to broadcast later this year, and many people are still up in arms about it.
The white British star of Shakespeare in Love will play the late King of Pop in Elizabeth, Michael and Marlon alongside Stockard Channing as Elizabeth Taylor and Brian Cox as Marlon Brando. The script is based on a reportedly fictitious road trip the three stars made in an attempt to leave New York after the Sept. 11 attacks.
Fiennes has spoken out about his casting as the legendary singer, insisting on the importance of "colour-blind casting." He recalls seeing a performance of the play After the Fall, where a black woman was cast to play Marilyn Monroe, and film critics refused to even see it because of the casting.
"From that moment, I realized how important colour-blind casting was, and when I went to drama school and went through my career in theatre, I've known nothing but colour-blind casting," he told The Hollywood Reporter. "It might offer something new and fresh and funny as long as it doesn't become disenfranchising, racial or rude or stereotypical, then it's the wrong place. But if it's offering something else that's positive in discussion, we have to entertain colour-blind casting at all levels."
Fiennes believes that his casting is only an issue because of the current #OscarsSoWhite controversy (not a single nominee in the major acting Oscar categories is a person of colour), and he actually shot Elizabeth, Michael and Marlon in the fall of 2015.
"It's an important conversation I want to go into in depth because it demands that. I shot this last autumn, and the internet had the information at the end of last year, for a long time," he said. "It was only in doing a little publicity that it got caught up in the whole Oscar conversation."
"I think outrage is good, as long as it doesn't get into a violent shouting match," he added. "These conversations are really important and they shape our industry. It's vital to have them. I kind of welcome it. You can't do this and not welcome it."
He doesn't see a problem with his casting as Jackson, reports The Wrap, especially because the iconic singer in his later years had lightened skin due to the skin condition vitiligo.
"It's not a biopic, and it's not Michael in his younger days," said Fiennes. "It's Michael in his last days when he did look, quite frankly, rather differently than when we grew up with him in the '80s or earlier. So it's Michael as we last remembered him. The decision with the casting and the producers — I wrangled with it, I was confused and shocked at what might come my way, and I knew the sensitivity, especially to Michael's fans and to Michael's family. It doesn't negate who he was.""
TJ Jackson, Michael Jackson's nephew and legal guardian of his three children, gave the following statement to Entertainment Tonight:
"It's offensive to me and my family for my uncle Michael to be portrayed in a comedy taking place around 9/11. Like everyone else, he was distraught, saddened and trying to process what had just happened. Following the events of 9/11, my uncle, Michael, stayed with a family friend in New Jersey for a week before flying back. The rest of our family immediately took buses back to Los Angeles as planes were grounded. There was no road trip with Elizabeth Taylor and Marlon Brando. I have no comment on the casting of the project."