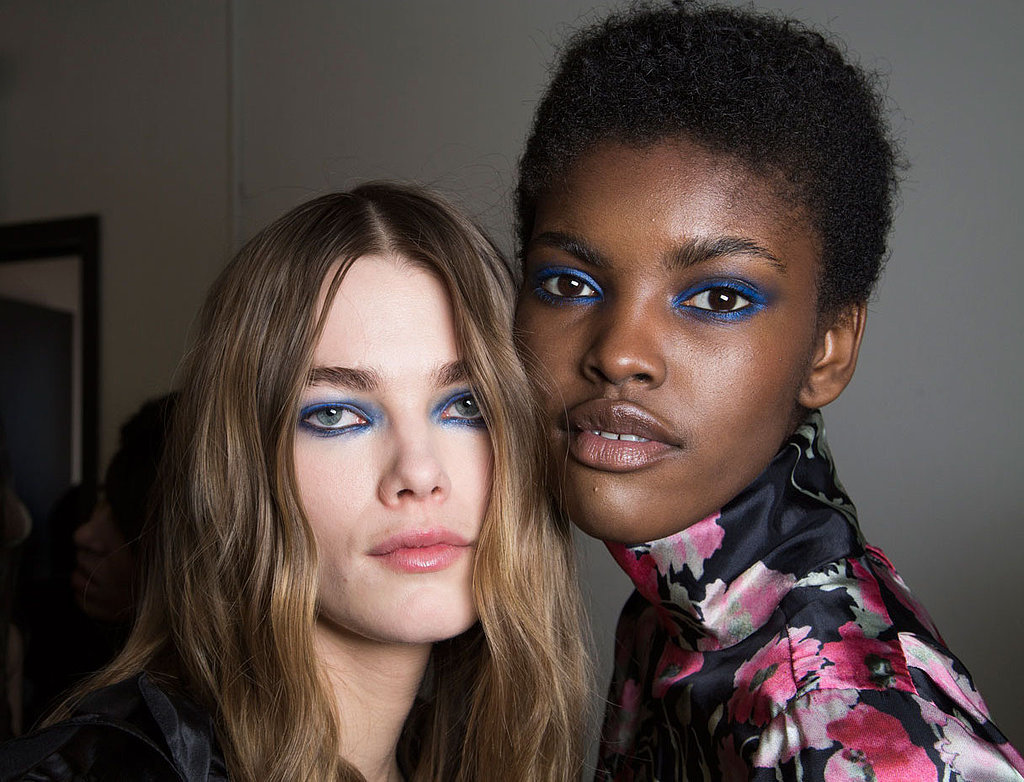 A
s absolute lovers of all things beauty, we practically salivate when New York Fashion Week rolls around. Being beauty editors, the new season means that we have full access to the best hairstylists, makeup artists, and manicurists in the business (and we won't even talk about the gaggle of models that we get to steal on- — and off- — duty secrets from). On the runway, we see all of the trends come to fruition, but backstage is where we get the inside scoop of all the tricks and tips that the pros use to get each and every look.
From the weird tool that helps to get a cat-eye flick on both eyes (for once!) to the best way to blend a bold smoky eye, we've absorbed every hack that makes models look so stunning on the runway. Here are the best (and easiest) ones to add to your routine to up your wow factor.

Fake a Fuller Lip
At Mara Hoffman's Fall 2016 show, Ilde Goncalves, the lead makeup artist for Sephora, taught us an easy trick for adding more dimension and depth to our lips, sans fillers. For the show, Goncalves used two different shades of lipstick from Bite Beauty, a deeper shade on the outer corners and a lighter shade on the center.
To copy this technique, he noted to always pick two colors that are three shades apart and to make sure to blend them well. This is not your ombré lip since your two colors should be extremely will blended — it just plays with the eye to add depth.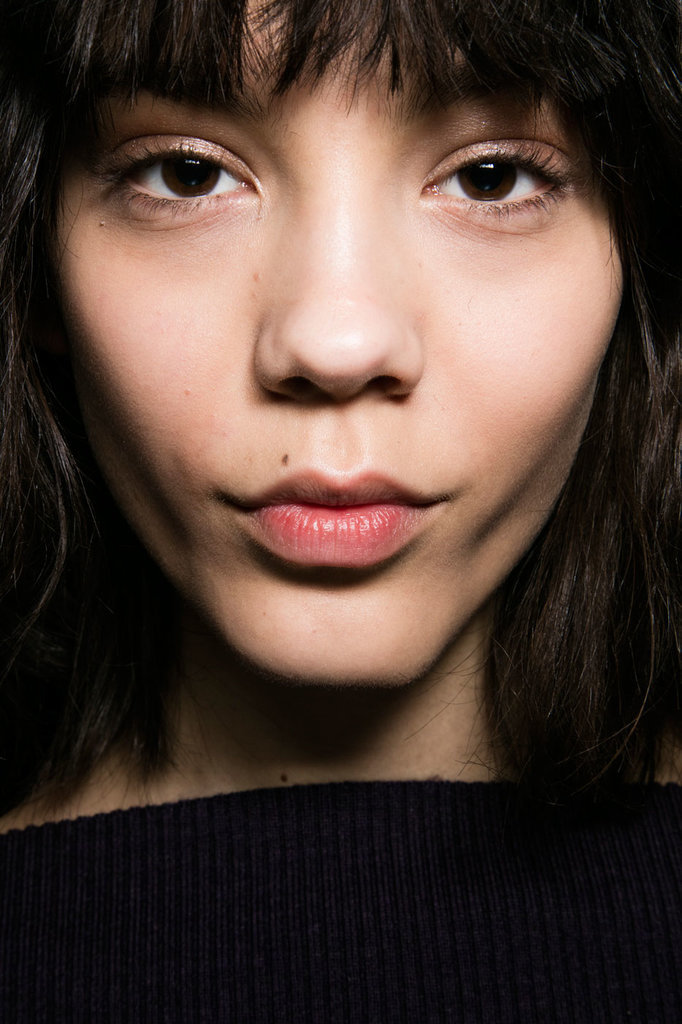 Make Your Gel Liner Into a Shadow
Typically, we all rely on our gorgeous metallic cream liners for just one thing — a graphic cat eye. Well, makeup artist Val Garland (for Jay Manuel Beauty) used them at BCBG as eye shadows. She "softened" (or blended) them out until they became more like a light, shimmery eye shadow. Garland suggests using a large, fluffy brush to sheer out the color (applying it right onto your lids as you do so) and simply continue to blend until it's the texture you want. Another tip is to add a clear gloss on top to help the product really "melt."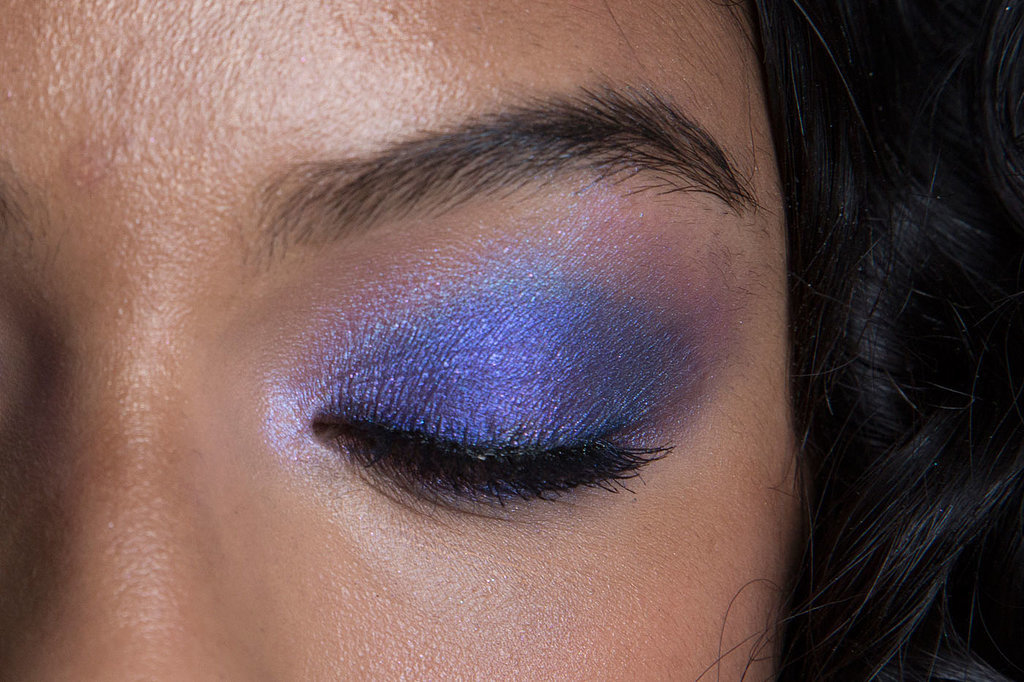 Finally Nail That Colored Smoky Eye
Ilde Goncalves, Sephora's key makeup artist at Mara Hoffman's Fall 2016 show, has a great tip for pulling off a bold-colored smoky eye.
Her recommendation: focus the saturated color closer to the lashes. Then blend the hue out on your lid, so it becomes sheerer near the brows and the outer corner. Or take baby steps by just using a brightly colored eye liner. You can gradually intensify the look!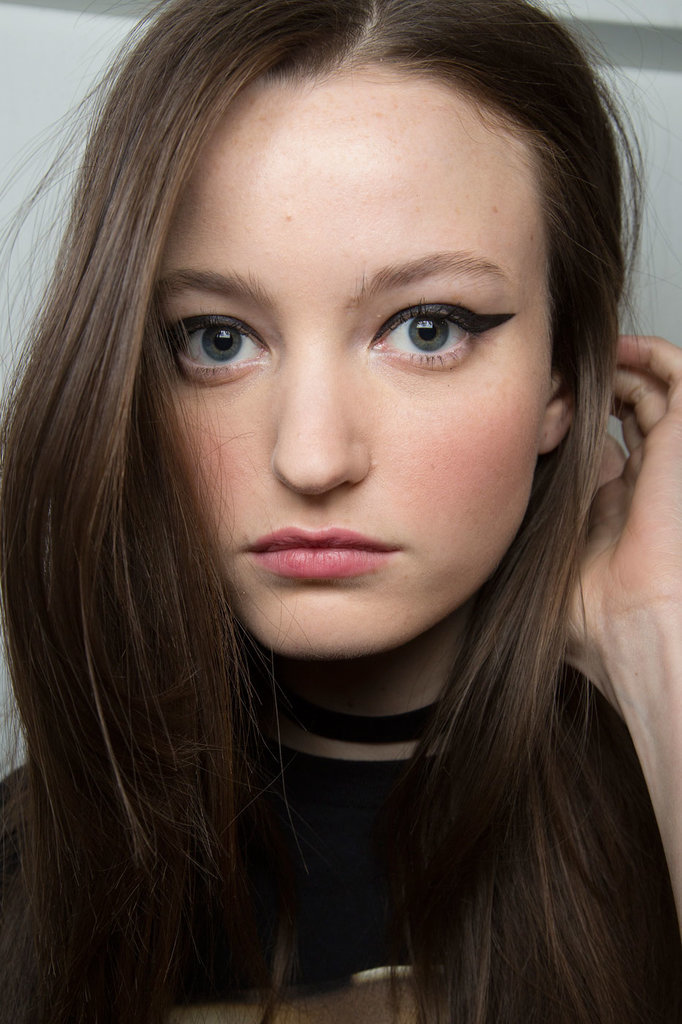 Perfect Your Cat-Eye Skills With This Trick
To get a fabulous cat eye every single time, Katie Jane Hughes, butter London's creative director, suggests looking straight into the mirror and keeping your face as relaxed as possible. Then create your "V" shape first (with eyeliner pencil!) and fill it in after. Finally, go over everything with a gel or liquid liner to set it.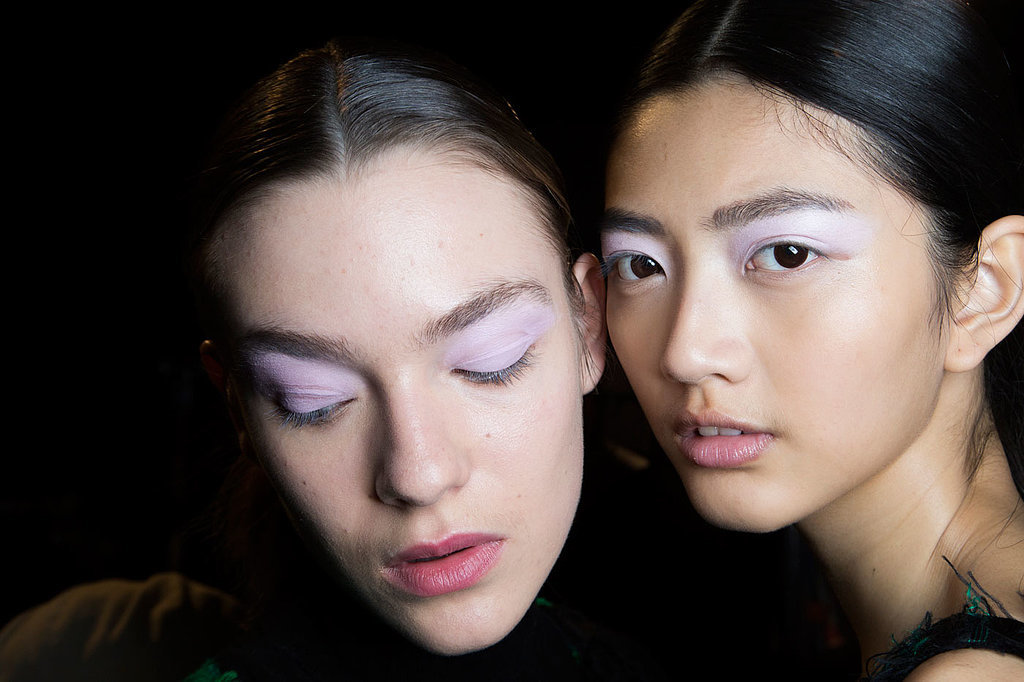 Rock Pastel Shadows
Pastels have never been an easy shade range to conquer when it comes to makeup, but Romy Soleimani made them absolutely lust worthy at Milly's Fall — yes, Fall! — show.
If you want to finally figure out how to pull them off, she recommends combining the hues with something darker, like a brown or charcoal, to "ground" the shade color. Once you've covered your lid in pastel, tap a hint of charcoal into the center as a highlight color to make them more wearable for every day.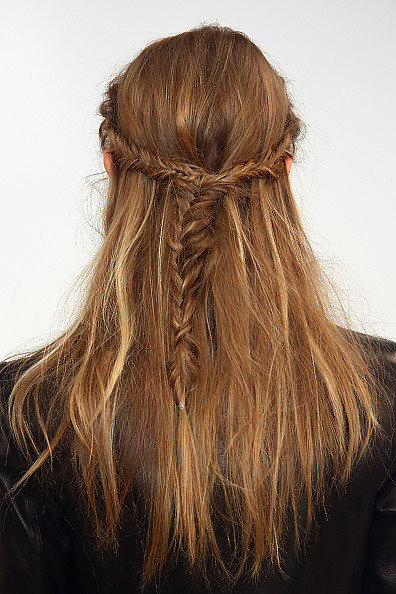 The Key to Creating Fishtail Braids
At Rachel Zoe's Fall 2016 show, the models rocked "off-duty," effortlessly cool fishtail braids that we immediately wanted to DIY. Luckily, TRESemmé stylist Jeanie Syfu was there to give us the trick to mastering the look: add texture and never, never attempt a braid with clean hair.
If you're struggling to get your braid to stay, it's simply because your hair doesn't have enough hold, so add a mattifying product like TRESemmé Perfectly (un)Done Wave Creation Sea Foam before you begin.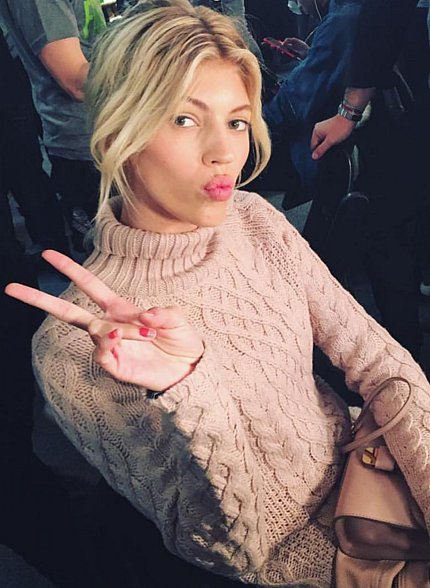 Get Rid of the Dreaded Lip-Liner Lines
For Rebecca Minkoff's Spring 2016 show, makeup artist Viviana Martin taught us the most genius lip-liner hack we've ever heard of. The fresh pink pouts were traced with a light-pink pencil, and then the models were asked to press their lips together really well in order to get rid of that severe line.
Martin noted that this is the best way to do a bold red pucker as well, because it helps make less of a mess. This is especially helpful if you're afraid of smears around the mouth, since the liner will simply transfer to the lip above it.

Fight Frizz For Good
Davines hairstylist Joseph DiMaggio understands the annoyance that frizzy hair can bring. At the Creatures of Comfort Fall 2016 show, he explained that, if you want to fight fuzz, you need to always seal your cuticle first.
According to the pro, most of us may making the mistake of opening the cuticle by rushing in the morning. Often, when we're in a hurry, we rough dry with a blow dryer and then use a flat iron to flatten the frizz, but that actually ends up dehydrating the hair and frying it. Instead, properly dry your hair to seal the cuticle (brush it out while you're drying to create tension, and follow the brush with the nozzle aiming downward). Use your flat iron next to add shine and set the style.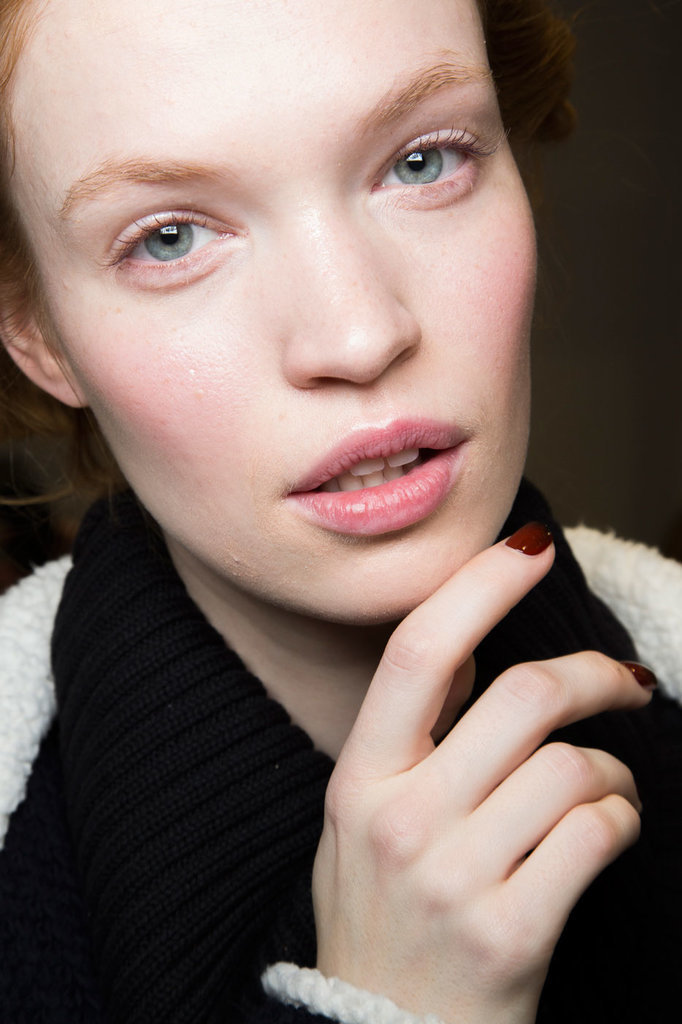 Get a Natural Flush
For an absolutely natural, healthy flush, you only need one product. At the Tanya Taylor Fall 2016 show, NARS makeup artist Uzo suggested using a lipstick shade (the same one!) on both your lips and cheeks. Apply it with your fingers for the most natural, blended look. This is the best way to use a creamy product, like a lipstick, in multiple ways.